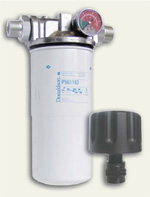 P902973 Bulk Fuel Tank Kit for low flow applications.

Many companies have older fuel storage tanks with poor filtration. As vehicle fleets are upgraded and common rail systems become more common there is a need to upgrade filtration on storage tanks.
This filter kit provides everything you need to ensure the fuel being drawn from your bulk tank meets the requirements of today's engines. The filter media actively absorbs water from the fuel. As water is absorbed the media swells until fuel will no longer flow, preventing water reaching your engine.
The T.R.A.P. breather stops moisture entering your storage tank from the atmosphere, preventing future buildups of water.
Suitable for both fixed and mobile tanks, either gravity fed or pumped delivery.
Donaldson P902973 Kit Features:
Spin-on filter for simplicity
Flow: 220 LPM
Removes 99.5% of particles 10 micron and larger
Water absorbing media
Includes adapters for common installations