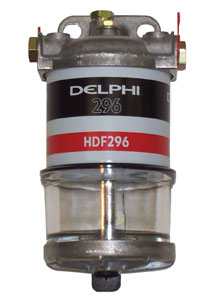 CAV filters separate water and sediment from fuel, protecting your engine and injectors from unnecessary wear. These filters feature a glass bowl with a drain valve on the bottom, allowing you to drain off water and sediment.
Typically, these filters provide far greater protection compared to most OE fuel filters. The cartridges used in these assemblies are 4 micron, compared to the 10 micron spin on filters commonly fitted at the factory.
Over time, fitting a CAV assembly will more than pay for itself. The replacement cartridges are typically about 1/3 of the cost of spin on filters and are readily available.
These filters are common in marine applications as well as in the agricultural, contracting and transport sectors. They are also fitted as aftermarket pre-filters on 4wd vehicles.