Thermally Reactive Advanced Protection (T.R.A.P.)  Breather Technology
Advanced Moisture Control and Particulate Filtration
Breather filters prevent airborne moisture and contamination from entering your fuel storage tank. This ensures an ideal fuel storage environment, clean and dry.
Moisture is blocked by Donaldson's T.R.A.P. breather. In fact, it removes moisture at relative humidity levels as low as 15%. T.R.A.P. filtration technology reacts instantly to changes in thermal conditions − blocking moisture.
T.R.A.P. breathers strip moisture vapor from intake air and releases the moisture back to the atmosphere on the outflow cycle. The filter continuously regenerates its water holding capacity. T.R.A.P. breathers expel the moisture back out, eliminating the need to change the breather due to water saturation. T.R.A.P. breathers not only protect against moisture but also provide advanced particulate filtration.
How it works: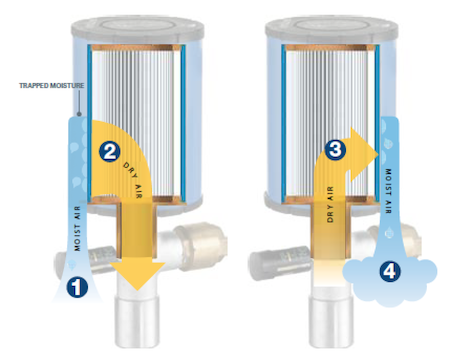 The tank 'breathes in' air containing moisture and dirt.
The T.R.A.P. filter strips moisture and contamination from the air, allowing only clean, dry air to enter the tank.
As the tank 'exhales' (During contraction or as it is refilled) the filter allows unrestricted air flow.
The dry air exiting the tank picks up the moisture contained by the T.R.A.P. filter on the intake cycle and 'blows it back out', regenerating the water holding capacity of the filter.
---
DFF0078 Breather filter assembly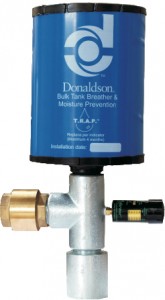 Suitable for tanks up to 40,000 litres in volume
500 LPM flow rate
Particulate Efficiency: 97% @ 3 micron
Thread: 1.5″ BSP on adaptor, 1.25″ BSP on filter
Assembly kit includes: breather element, mounting assembly, restriction gauge and bypass protection valve.
Assembly Kit Part Number: DFF0078
Replacement Breather: P923075
---
P564669 Breather for smaller & mobile tanks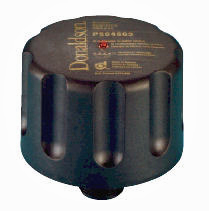 Suitable for farm tanks and mobile tanks on utes etc
ABS plastic construction
Electronic restriction indicator signals end of useful life
Particulate Efficiency: 97% @ 3 micron
Thread: 1″ NPT
---