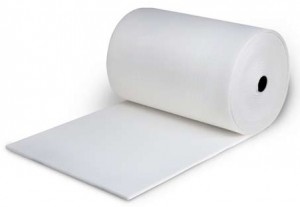 Our G4 filter media is a versatile, high performance fabric. The fabric is suitable for all air conditioning systems, air intakes or as a pre-filter to more efficient secondary filters.
This media is a popular choice for those looking for a cheaper alternative to OE filters in home ventilation systems. We also use this media to cover vehicle radiators to prevent grass, silage and mud from blocking fins, saving both labour costs in cleaning and damage resulting from overheating.
The media has excellent dust holding capacity while maintaining low resistance. The media is durable and is able to be washed or shaken out and returned to service.
The filter media is manufactured from thermally bonded fibers. These are built up progressively towards the exit face to form a high density matrix with excellent mechanical strength. The fibers are toxic free (contain no PVC), are resistant to fracture and are not affected by moisture or chemicals.
Available by the square metre or in lineal metre (1m x 2m) lengths