Air filters are the primary defence for your engine, so it is important to have a clean filter. If your gear is working in dusty conditions the cost of replacing air filters soon adds up. You can reduce costs by fitting an air precleaner. This will reduce the amount of dust making it through to the air filter.Varoius types of precleaners are available depending on work conditions and budget, two common options are showcased below.
Donaldson Top Spin Pre-cleaner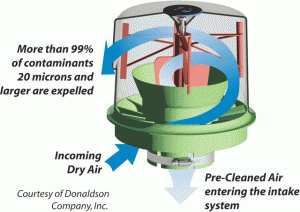 Donaldson TopSpin pre-cleaners are the latest development in pre-cleaners. TopSpin pre-cleaners will separate up to 85% of all incoming contaminants, this improves to 99% separation of contaminants 20 micron and larger. This represents significantly better performance, and therefore savings, compared to traditional pre-cleaners.
Self cleaning
Spinning blades activated by suction from the engine actively eject dust particles from the housing.
Easy installation
One clamp fitment, no need to connect exhaust ejector or wires. Fits on the top of your existing intake pipe.
Lighter weight
Lighter than both other competitive pre-cleaners and the Full View pre-cleaner from Donaldson.
Strong
Constructed from heavy duty, solid black polypropylene.
Lower restriction
Results in lower operating costs and less stress on your engine.
Range of sizes
13 sizes are available, ranging from a 2 inch inlet to a 7 inch inlet.
Donaldson Full View Pre-cleaner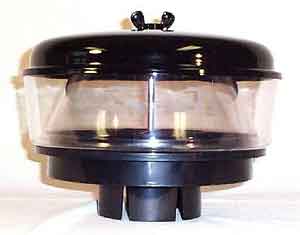 Donaldson Full View pre-cleaners provide a cost effective and low maintenance solution. Dust is collected in the clear plastic bowl, which is emptied when required. Up to 75% of incoming dust is separated before entering the intake system.
Durable, lightweight construction
Simply clamps on top of your existing air intake pipe.
Clear plastic bowl
Lets operator see when service is required.
Easy maintenance
Simply remove butterfly nut and empty bowl. No tools required.
Range of sizes
11 sizes are available, ranging from a 1.75 inch inlet to a 7 inch inlet.
Replacement parts readily available